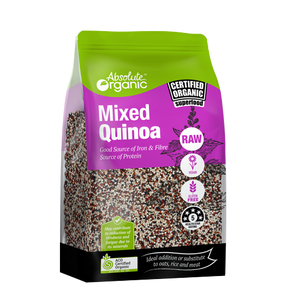 No nasties added
Vegetarian
WEIGHT
400g
INGREDIENTS
Certified organic white, red and black quinoa. May contain traces of seeds and nuts..
COUNTRY OF ORIGIN
Product of Bolivia. Packed in Australia
DESCRIPTION
Absolute Organic Quinoa is a naturally gluten free powerhouse food with a hard to beat nutritional profile amongst the grains. Not only does quinoa have high levels of essential amino acids, but also twice the protein content of rice and almost three times the fibre content. Just to make it even more perfect, it is super versatile, quick to cook and adds a fluffy texture to your favourite dishes.
NUTRITION INFORMATION
Servings per unit: 8, Serving size: 50g
Average Quantity
Energy 774kJ
Protein 6.6g
Total Fat 2.2g
– Saturated 0.25g
– Transaturated 0g
Carbohydrate 35g
– Sugars 0g
Dietary Fibre 5.7g
Sodium 14mg
Iron 2mg
Calcium 13.4mg