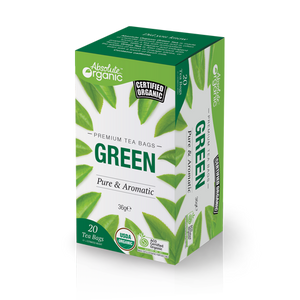 QUANTITY
20bags x 36g
INGREDIENTS
Certified organic green tea. Allergen free. Contains caffeine.
COUNTRY OF ORIGIN
Product of India. Packed in Australia
DESCRIPTION
Absolute Organic Green Tea is made of Camellia Sinensis leaves and is often known as a tea with antioxidant properties. With a fragrant and indulgent flavour, Green Tea is also delicious with the addition of lemon or orange slices, or even with a touch of fresh milk.