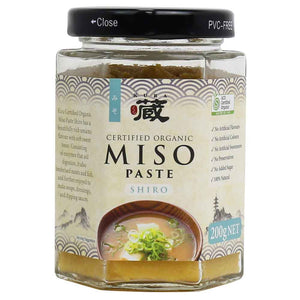 GMO-Free
100% Natural
Vegan-Friendly
WEIGHT
250g
INGREDIENTS
Water, Organic Soybean, Organic Rice, Salt.
Allergy: Soy
No artificial flavours
No artificial colours
No preservatives
No added sugar
No artificial sweeteners
GMO free
100% natural
Vegan friendly
COUNTRY OF ORIGIN
Japan
DESCRIPTION
Kura Certified Organic Miso Paste Shiro has a beautifully rich umami flavour with soft sweet tones. Consisting of enzymes that aid digestion, it also tenderised meats and fish, and further enjoyed to make soups, dressings, and dipping sauces.
NUTRITION INFORMATION
Nutrition Information: 
Servings per package: 13  /  Serving size: 15 g
Average Quantity
per Serve
per 100g
Energy (kJ)
100 kJ
667 kJ
Protein
1.7 g
11.2 g
Fat – Total
LESS THAN 1 g
5.6 g
  – saturated
LESS THAN 1 g
1.1 g
Carbohydrate
2.2 g
14.5 g
  – sugars
1.9 g
12.5 g
Dietary Fibre
LESS THAN 1 g
2.9 g
Sodium (mg)
612 mg
4080 mg