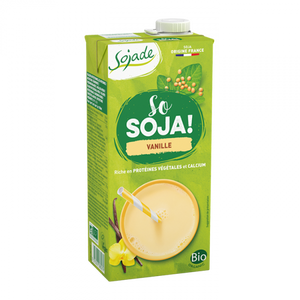 Lactose-Free GMO-Free Fortified Calcium Source of Protein
WEIGHT

1L
INGREDIENTS:
 Soya drink* 95%, raw cane sugar*, Lithothamnium calcareum seaweed **, natural vanilla flavouring*,  sea salt.
* Organic farming
** Naturally rich in calcium
COUNTRY OF ORIGIN
France
DESCRIPTION
For that alternative to dairy that's full of flavour, look no further than this organic soya milk, made from organic soya grown in France. Tinged with fragrant vanilla, it's lovely to drink just on its own, or mixed with fruit to make a fantastic smoothie. It will fast find a permanent spot in your fridge.

NUTRITION INFORMATION
Nutritional Information per 100g/ml
Energy (kJ): 202
Energy (kcal): 48
Fat (g): 1.8
of which Saturates (g): 0.3
Carbohydrate (g): 4.4
of which Sugars (g):4.4
Protein (g): 3.4
Calcuim (mg): 120