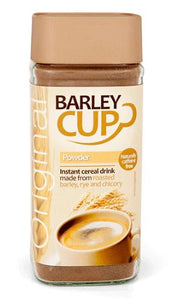 Gluten free
Naturally caffeine free
WEIGHT
200g
INGREDIENTS
Soluble solids of roasted barley, rye and chicory.
COUNTRY OF ORIGIN
United Kingdom
DESCRIPTION
Perfect coffee alternative Does not contain caffeine Only natural ingredients - cereals and chicory Barleycup drinks are the natural choice for those who like tea and coffee but are trying to cut down on the amount of caffeine in their diet. Made only from wholesome roasted barley, rye and chicory. A naturally refreshing caffeine free instant cereal drink. It is fat free and high in fibre.
NUTRITION INFORMATION
Energy 1430kJ/339kcal, Protein 3.9g, Carbohydrate 72g, of which sugars 15g, Fat trace, Salt 0.2g.