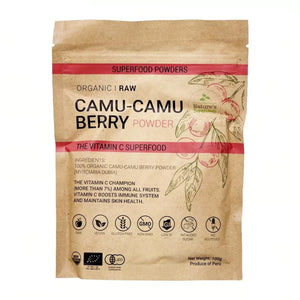 WEIGHT
100g
INGREDIENTS
100% Organic Camu-Camu Berry powder
COUNTRY OF ORIGIN
Peru
DESCRIPTION
Nature's Superfoods' Organic Premium Camu-Camu Powder comes from the Amazon rainforest. It contains one of the highest Vitamin C content of 7-10% (lab report) among all fruits (by weight). There are various grades of Camu-Camu Powder and we have chosen the premium grade because only the skin and pulp of the berries are used to make the powder; the seeds (deficient of Vitamin C) are discarded.
Camu-Camu powder is an excellent and convenient way to top up our daily requirements of natural vitamin-C.
To use :
1) Mix 1/2 -1 teaspoon (2-4g) powder into honey water, smoothies, juices, dressing, desserts, etc. No suitable for high-heat recipes.
2) Sprinkle a little powder on top of yoghurt, granola or raw desserts to top up your daily Vitamin C requirement Recommended daily intake:
One teaspoon (4g) - provides more than 200mg of full-spectrum Vitamin C. Increase to 2 teaspoons (8g a day) if you are coming down with a cold/viral infection/flu.
NUTRITIONAL INFORMATION