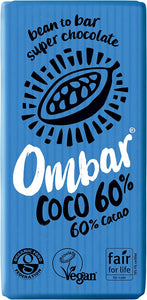 Gluten Free
Wheat Free
GMO Free
Vegan
WEIGHT
35g
INGREDIENTS
Unroasted Cacao*♦, Coconut Sugar*♦, Creamed Coconut* (13%), Cocoa Butter*♦, Vanilla Extract*. *Certified organic. ♦Fair trade certified according to the Fair for Life standard (53%). Cocoa solids 60% minimum. Allergy information: may contain nuts.
COUNTRY OF ORIGIN
United Kindom
DESCRIPTION
Organic dark 60% chocolate made using the finest-flavoured unroasted Ecuadorian cacao and smooth, creamed coconut. We keep our cacao unroasted to preserve the heat-sensitive polyphenols (healthy plant compounds), ensuring our chocolate stays nutrient-rich and full of flavour, as nature intended.
NUTRITION INFORMATION
Per 35g Bar): Energy 837 kJ (202 kcal), Fat 15g, of which saturates 9.9g, Carbohydrates 16g, of which sugars 11g, Protein 2.9g, Salt 0g, Manganese 0.4mg.