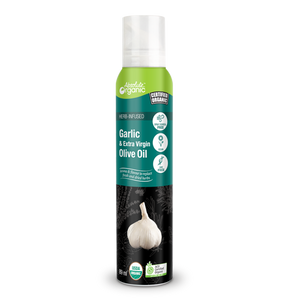 Gluten Free
Vegan
WEIGHT
89ml
INGREDIENTS
Extra virgin olive oil*, garlic essential oil (<5%). *Certified organic. May contain traces of soy, milk and wheat
COUNTRY OF ORIGIN
Packed in USA from imported ingredients.
DESCRIPTION
Absolute Organic Herb Infusions made with Extra Virgin Olive Oil are pure sprays with a distinct flavour and aroma, great to enhance the taste of your favourite dishes, salads and snacks. All variants come in a non-aerosol and non-chemical container that keeps its contents fresher for longer by shielding from air and light
HOW TO STORE

Please store at temperature under 49°C. Protect from sunlight.
NUTRITION INFORMATION