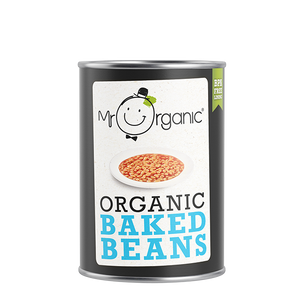 Organic & Natural
Gluten-Free
1 of Your 5 a Day
Cooked & Ready to eat
BPA Free Packaging
Organic & Natural
Vegan
WEIGHT
400g
INGREDIENTS
Haricot Beans* (60%), Water, Tomato*, Cane Sugar*, Corn Starch*, Sea Salt, Spices*, * = From Organic Agriculture.
COUNTRY OF ORIGIN
Italy
DESCRIPTION
Organic baked beans in a hearty tomato sauce! All Mr. Organic food is made with organically grown ingredients and love for our planet.
STORAGE CONDITIONS
Once opened, remove me from my can, put me in a non-metallic container and keep me refrigerated. I'll remain totally scrumptious for 72 hours.
NUTRITION INFORMATION