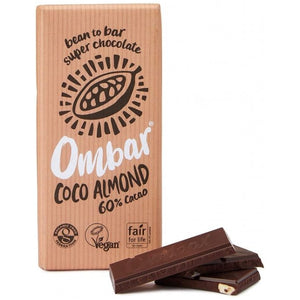 Organic
No Refined Sugars
Vegan
gluten free
WEIGHT

70g
INGREDIENTS:
Unroasted Cacao*♦, Coconut Sugar*, Activated Almonds* (13%), Creamed Coconut* (11%), Cocoa Butter*♦, Vanilla Extract*.
COUNTRY OF ORIGIN
United Kingdom
DESCRIPTION
Rich, creamy dark chocolate with a raw almond crunch, made using the finest-flavoured unroasted Ecuadorian cacao and activated almonds. We keep our cacao unroasted to preserve the heat-sensitive polyphenols (healthy plant compounds), ensuring our chocolate stays nutrient-rich and full of flavour, as nature intended.
All Ombar products are refined sugar free, dairy free, gluten free and certified vegan, organic, and fair trade.
NUTRITION INFORMATION
Typical values per 35 g

Energy (202 kcal), Fat 15g, of which saturates 7g, Carbohydrates 16g, of which sugars 11., Protein 3g, Salt 0.0g, Manganese 0.4mg.