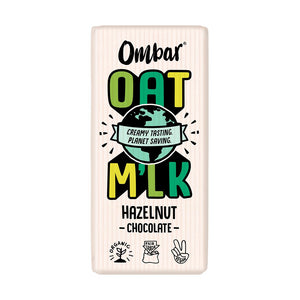 Organic no refined Sugars vegan unroasted cacao
WEIGHT

70g
INGREDIENTS:
Unrefined Cane Sugar*♦, Ground Naked Oats* (25%), Unroasted Cacao*♦, Cocoa Butter*♦, Hazelnut Paste* (10%), Chopped Hazelnuts* (8.5%), Vanilla Extract*, Desert Salt. Cocoa Solids: 40% Minimum.
COUNTRY OF ORIGIN
United Kingdom
DESCRIPTION
Hazelnuts and chocolate – a match made in heaven. Smooth Italian hazelnut paste is mixed in to our oaty chocolate base, with roasted hazelnut pieces for a crunchy nutty hit.
NUTRITION INFORMATION
Typical values per 35 g

Energy (216 kcal), Fat 17g, of which saturates 7g, Carbohydrates 13g, of which sugars 7g, Protein 3g, Salt 0.04g.