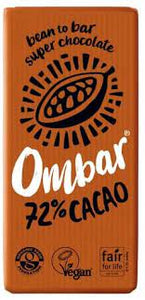 organic no refined Sugars dairy free gluten free
WEIGHT

70g
INGREDIENTS:
Unroasted cacao*♦, Coconut sugar*, Cocoa butter*♦, Live Culture: Lactobacillus Acidophilus.*Certified organic. ♦Fair trade certified according to the Fair for Life standard (72%). Cocoa solids 72% minimum. Allergy information: may contain nuts.
COUNTRY OF ORIGIN
United Kingdom
 DESCRIPTION
Our 72% Cacao bar is delicate and well balanced, with floral, jasmine-like tasting notes. This bean to bar chocolate is made with all-natural ingredients, and has billions of added live cultures. We keep our cacao unroasted to preserve the heat-sensitive polyphenols (healthy plant compounds), ensuring our chocolate stays nutrient-rich and full of flavour, as nature intended
NUTRITION INFORMATION
Typical values per 35 g

 Energy (204 kcal), Fat 15g, of which saturates 9.4g, Carbohydrates 15g, of which sugars 8.8g, Protein 3.3g, Salt 0g, Manganese 0.5mg.