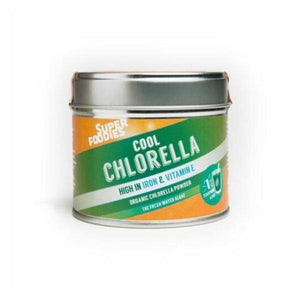 Organic
Vegan
high in iron & Vitamin B12
WEIGHT
75g
INGREDIENTS
100% Organic Chlorella Powder
COUNTRY OF ORIGIN
Produced in Asia, packed in the UK. Certified Organic by the UK Soil Association and registered by the Vegan Society.
DESCRIPTION
Chlorella powder contains the naturally occurring plant pigment, chlorophyll, which is often regarded as a important element for detoxification and is also responsible for giving chlorella its striking blue-green colour. This certified organic and raw chlorella powder is carefully washed then dried, maintaining the key nutrients. It is then milled to break the insoluble chlorella cell walls. This broken cell wall variant of chlorella makes the nutrients more accessible without losing any of the nutritional benefits.
Chlorella Powder Benefits Contains vitamins A, B9, C, E and K. Contains the minerals, calcium, magnesium, iron, phosphorus and potassium. Contains trace elements, omega 3 fatty acids and chlorophyll. Is certified organic by "Organic Farmers & Growers". Has been dried and processed at low temperatures in order to retain an optimum number of its naturally occurring nutrients. Is totally pure and free from added fillers. Is suitable for those following a vegetarian, vegan or rawfood diet.
NUTRITION INFORMATION