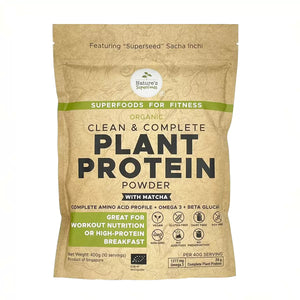 Vegan
Dairy Free
Gluten free
Non GMO
Low GI
Nut-allergen Free
WEIGHT
400g
INGREDIENTS
Organic Sacha Inchi Seed Powder, Organic Rolled Oats, Organic Oatmeal, Organic Matcha Powder, Organic Sprouted Brown Rice Protein, Organic Coconut Sugar, Organic Chia Seeds, Organic Pea Protein, Organic Pumpkin Seed Protein, Organic Lucuma Powder, Organic Cacao Powder, Organic Carob Powder.
COUNTRY OF ORIGIN
Singapore
DESCRIPTION
100% Plant-Based, Clean & Complete Protein Powder. Nature's Superfoods' Clean & Complete Plant Protein Series has been thoughtfully formulated without the use of additives, preservatives, artificial sweeteners or flavors. Suitable for vegans and free of common food allergens such as dairy, soy, nut and gluten. Our aim is to provide clean plant protein blend that contains all the 9 essential amino acids (EAAs)-complete protein-that are required by our body for protein synthesis, healthy Omega fats that improve protein metabolism and help reduce inflammation, and antioxidants that fight free radical damage. This synergistic blend is specially formulated to be easy-to-consume, pleasant-tasting and to meet your daily nutritional needs easily. Per serving (40g), this plant protein blend provides 21g of complete protein (all 9 essential amino acids) and 1362mg of Omega 3, plus antioxidants. SACHA INCHI: The major and star ingredient in this blend. A complete protein source -contains all Essential Amino Acids (EAAs) in ideal proportions, including the Branched Chain Amino Acids (BCAAs). Also known for its high digestibility and Omega 3 fats that enhance protein absorption. Its mildly nutty and smooth texture makes it an excellent superfood for workout nutrition or high-protein breakfast/meal. Sacha Inchi is also very high in tryptophan, an amino acid essential to the production of serotonin which helps regulate mood, appetite, sleep and memory. ROLLED OATS & OATMEAL: Good source of complex carbohydrates and fiber, including the soluble fiber - beta-glucan - which has numerous health benefits. Beta-glucan is known to help regulate blood cholesterol and blood sugar levels, increase satiety and aid in digestion. Oats is also high in magnesium, iron, zinc and B vitamins. SPROUTED BROWN RICE PROTEIN: Contains all the Essential Amino Acids in ideal proportions, including the Branched Chain Amino Acids (valine, leucine and iso-leucine) needed by the body to build and repair muscles and other tissues. CHIA SEEDS: Richest plant source of Omega-3 fatty acids. Contains B vitamins, complete protein (all 9 essential amino acids), calcium and dietary fiber PEA PROTEIN: Good amino acid profile, including branched-chain amino acids (BCAAs) that help keep your body in a muscle-building state during workouts. PUMPKIN SEED PROTEIN: like Sacha Inchi Seeds, are also a rich source of tryptophan, an amino acid that our bodies convert into serotonin which helps regulate mood, sleep and memory. A good source of magnesium that has been shown to lower blood pressure and help prevent heart diseases. Also high in plant-based omega-3s and plant sterols which help regulate blood cholesterol and maintain heart health. MATCHA: Much more nutrient-dense than common green teas. Rich in amino acids, specifically L-Theanine, which leads to a state of relaxed alertness and helps relieve stress. High in antioxidants, particularly Epigallocatechin Gallate (EGCG) which strengthens the immune system, and also chlorophyll which improves detoxification.
HOW TO USE
1) Add 1 serving (3 tablespoons=40g) powder into 1 cup (approx.. 250ml) of water, juice, almond milk, coconut water or your favourite beverage. 2) Stir and shake well. 3) Blend with your favourite smoothie.
NUTRITIONAL INFORMATION