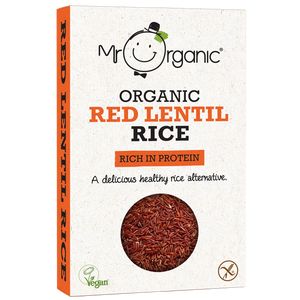 Gluten-Free
Vegan
Zero Air Miles
High in Protein
Low in fat
WEIGHT
250g
INGREDIENTS
Organic red lentil flour. And that's it!
COUNTRY OF ORIGIN
United KIngdom
DESCRIPTION
Our vibrant coloured legume rice range is an excellent substitute for regular rice or pasta in any dish. High in protein and low in fat, they are remarkably healthy and giving a unique look to any meal.
STORAGE CONDITIONS
Keep me in a cool, dry place away from direct heat and sunlight.
NUTRITION INFORMATION
Typical values Per 100g
Energy 1412kJ / 334kcal
Fat 1.7 g
of which saturates 0.4 g
Carbohydrate 50 g
of which sugars 1.2 g
Protein 26 g
Salt 0 g
Fibre 7.6 g