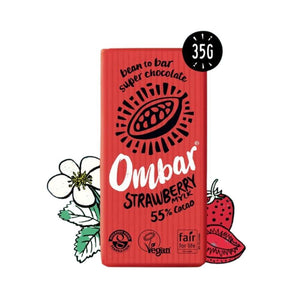 diary free no refined Sugar vegan gluten free
WEIGHT

35g
INGREDIENTS:
Coconut Sugar*, Unroasted Cacao*♦, Cocoa Butter*♦, Creamed Coconut (14%), Strawberry Powder* (7%), Vanilla Extract*, Live Culture: Lactobacillus Acidophilus.*Certified organic. ♦Fair trade certified according to the Fair for Life standard (46%). Cocoa solids 55% minimum.
COUNTRY OF ORIGIN
United Kingdom
 DESCRIPTION
55% cacao, creamy 'mylk' chocolate, and zingy, fruity strawberries. We use creamed coconut instead of milk which gives a delightfully smooth, melt-in-mouth texture, and add billions of live cultures. We keep our cacao unroasted to preserve the heat-sensitive polyphenols (healthy plant compounds), ensuring our chocolate stays nutrient-rich and full of flavour, as nature intended.
NUTRITION INFORMATION
Typical values per 35 g

 Energy  (211 kcal), Fat 17g, of which saturates 11g, Carbohydrates 15g, of which sugars 9.9g, Protein 2.2g, Salt 0g, Manganese 0.4mg.