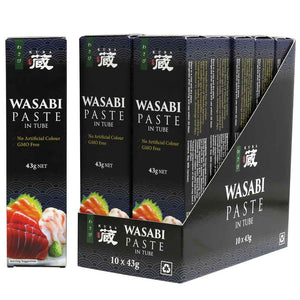 GMO-Free
Japanese style
No artificial colour
WEIGHT
43g
INGREDIENTS
Horseradish Powder, Water, Refined Soybean Oil, Sweetener (Sorbitol), Corn Starch, Salt, Lactose, Maltodextrin, Wasabi Japonica (1.6%), Flavouring, Turmeric, Thickener (Xanthan Gum), Natural Colour (Chlorophyllin copper complex sodium salt).
Allergy: Soybeans, Milk (lactose).
GMO free
No Artificial Colour
COUNTRY OF ORIGIN
Japan
DESCRIPTION
Kura Wasabi Paste has the unique Japanese flavour of Wasabi Japonica. This mildly spicy horseradish condiment is enjoyed with sushi, sashimi or added for extra flavour to salads, dressings and dips.
NUTRITION INFORMATION
Nutrition Information:
Servings per package: 15  /  Serving size: 2.8 g
Average Quantity
per Serve
per 100g
Energy (kJ)
LESS THAN 40 kJ
1302 kJ
Protein
LESS THAN 1 g
1.7 g
Fat – Total
LESS THAN 1 g
11 g
  – saturated
LESS THAN 1 g
5.6 g
Carbohydrate
1.4g
49 g
  – sugars
LESS THAN 1 g
14 g
Dietary Fibre
LESS THAN 1 g
4.4 g
Sodium (mg)
90.7 mg
3240 mg